coconut oil machine prices in sri lanka soybean oil machine price cold pressed argan oil press
| | |
| --- | --- |
| Product name | Manual oil press machine |
| material | Stainless steel 304 |
| weight | 3KG |
| Raw material | peanut,sesame,sunflower,soybean ,walnut ,etc |
| power | manual |
| main parts | frame,press cage,screw shaft,crank ,etc |
| Packing size | 270*260*350*60mm |
| color | red or at your request |
Product application of manual oil press machine:
Suitable for most oil crops with oil content more than 25%, such as peanuts, sunflower seeds, rapeseed, sesame, walnut kernels, etc.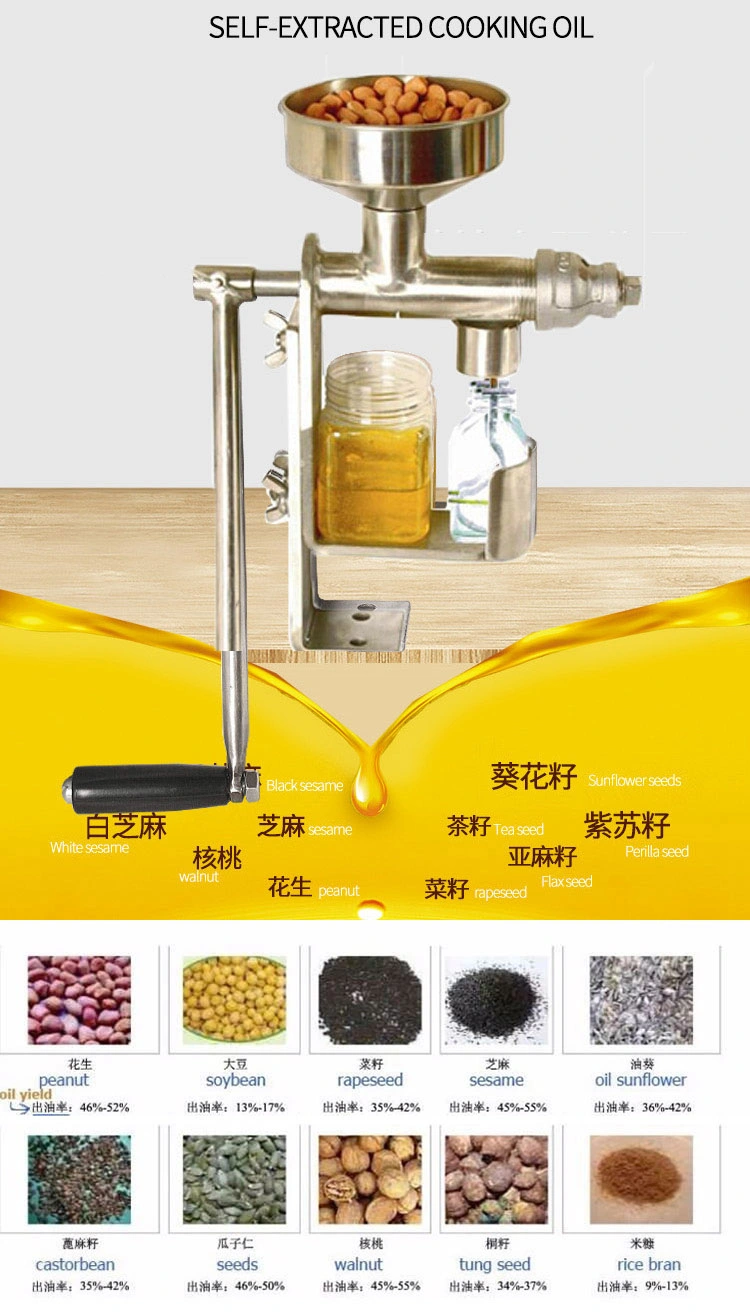 Products display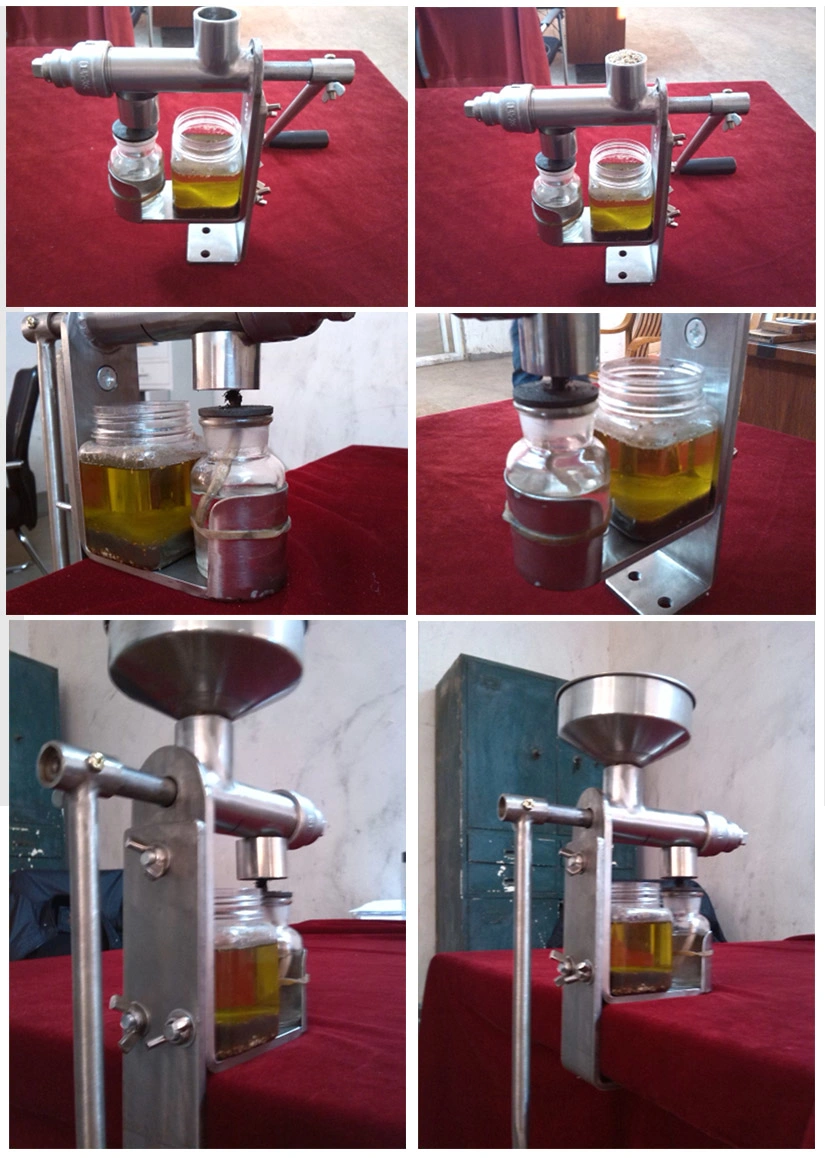 Product details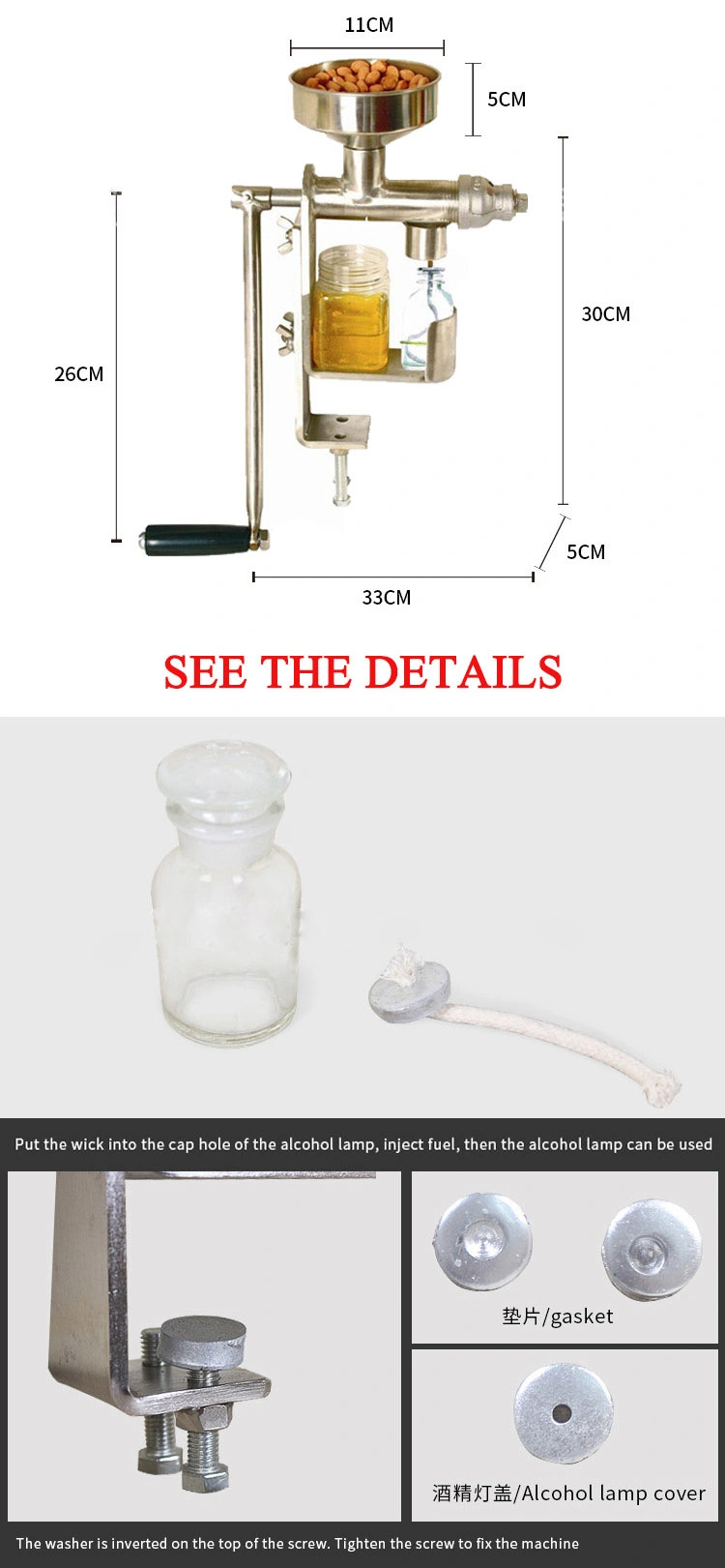 Components of manual oil extractor
This machine consists of frame, press part, driver part and heating part etc. In view of environmental protection and recycling, material feeding/collecting equipment can be replaced with drink bottle, which is prepared by buyer.
Assembly of manual oil extractor
Before operation please fix the frame and make sure crank can be turned freely.
Lubricate washer with edible oil and insert on screw shaft from the small end.
Insert screw shaft in press cage.
Screw on press cage cap and screw on terminal adjustment bolt.
Attach crank arm to screw shaft and tighten the bolt.
Fill 80% fuel to the lamp bottle (kerosene or alcohol). Pass a 15cm wick through the washer. Leave 0.5cm of wick outside and put the longer end in the fuel bottle. Place washer at the bottle mouth. Place the lamp under press cage. Secure the lamp with rubber band.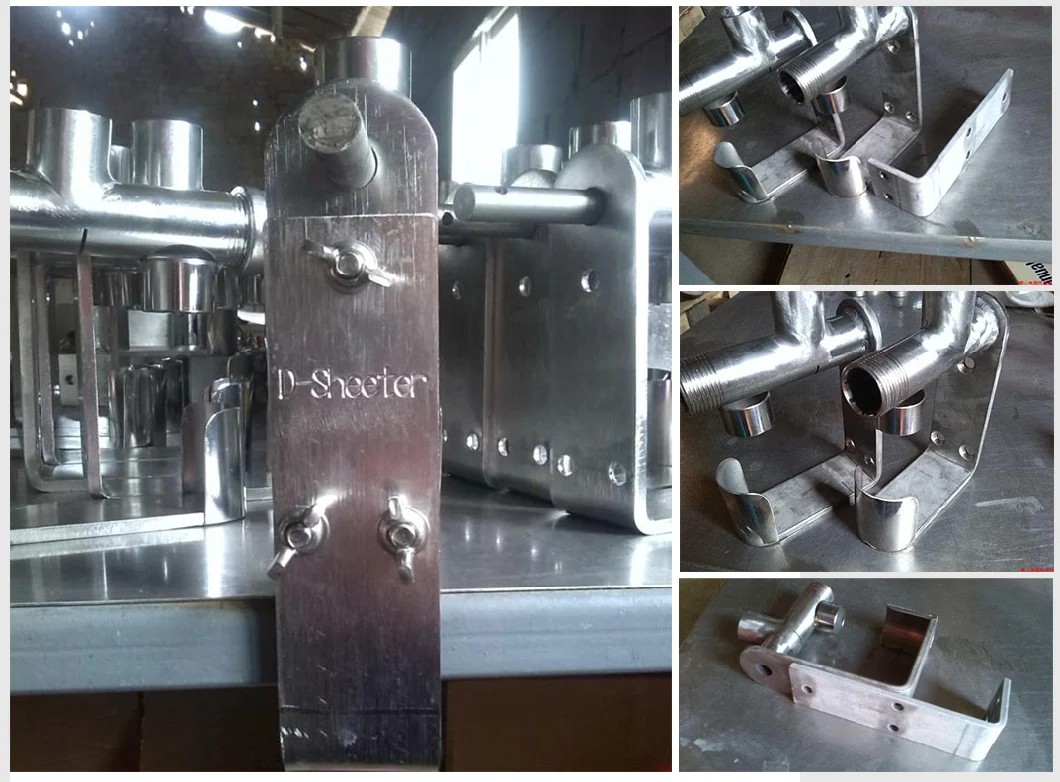 It is very convenient
Operation of manual oil extractor :
Make sure no impurities in the material before pressing.
At the beginning of pressing, oil flowing from the terminal adjustment bolt is normal.
Loose the terminal adjustment bolt if the discharged cake is too dry and crank turning resistance is too big
Tighten the terminal adjustment bolt if the discharged cake contains too much oil residual.
Heating of manual oil extractor :
To guarantee the oil output, the press cage should be heated for about 10 minutes. when the press cage temperature reaches 50-70°C, material can be put into inlet for pressing. The lamp remains heating during pressing as well.
Cleaning of manual small oil press :
Clean the oil press immediately after operation. Otherwise residual in the machine will get hard and affect next operation.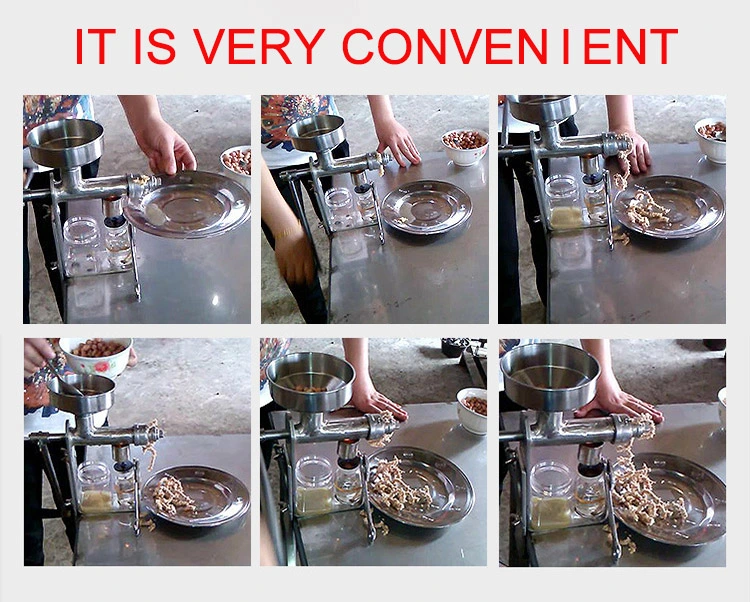 Packing and delivering
Packing : inside: foam interior,each part is warm wrapped to ensure no damage
Exterior:neutral color box
Transport package:5sets/box 5 layers of cowhide corrugated paper
Single package:package with 2 layers of air bubble film and express bag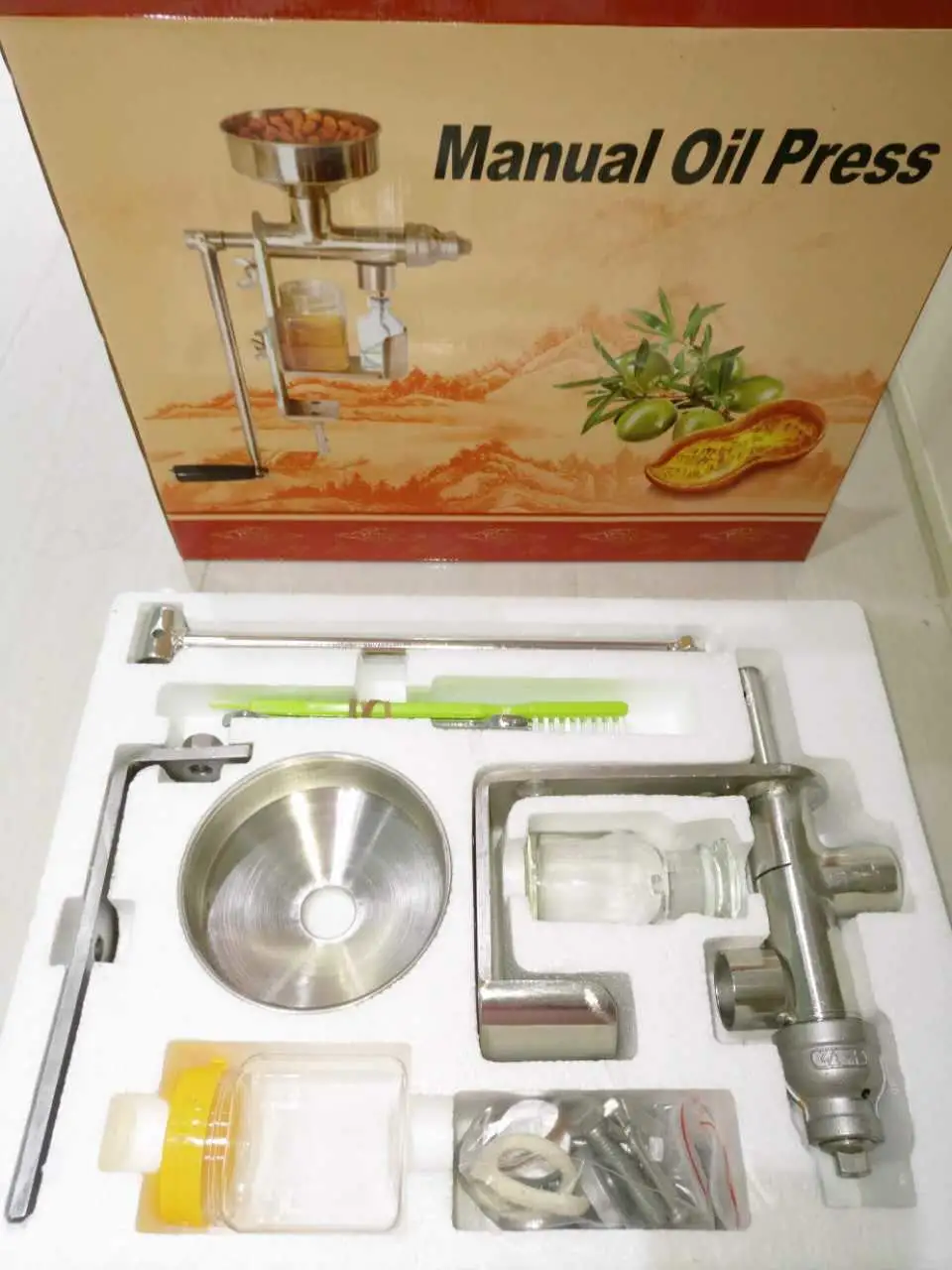 FAQ:
Q1: How is the quality of your Home Use Mini Oil Press Machine/Sunflower Oil Extractor/Vegetable Seeds Oil Press?
A1: Our products are manufactured strictly according to national and international standard, and we take a test on every oil press machine before delivered out. We have got CE certification and all kinds of testing report; if you want please just ask us for it.
2: What is the warranty for your Home Use Mini Oil Press Machine/Sunflower Oil Extractor/Vegetable Seeds Oil Press ?
A2: Our products have the high quality, we can offer 12 months warranty. The time for the warranty is much longer than any other similar products.
Q3: Can you manufacture the special products according to customers?
A3: Of course the answer is YES. You can contact with us directly.
Q4: How can costumers be sure they can get the products on time?
A4: If we can not deliver the products during the ordered time, we can give back 100% your money.