Flax Seed Extrac
t
of
Hunan Sunfull Bio-tech Co., Ltd.
Latin Name:

Linum usitatissimum

L
Family:
Linaceae
Part of the Plant Used
: Seeds/ Hull
Active Ingredients
Flax lignans /Secoisolariciresinol Diglucoside (SDG)
CAS No.:
148244-82-0
Molecular formula:
C32H46O16
Molecular weight:
686.71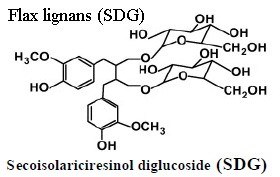 Product Specification:
Flax lignans (SDG) 10%, 20%, 40%,70%,95%, 98%
Product Introduction
Flaxseed is the seed of the flax (Linum usitatissimum L). The typical use of flaxseed is as a source of the essential fatty acids. Flaxseed is also rich in lignans, secoisolariciresinol diglucoside (SDG), which are known to possess various pro- estrogenic properties. It has a balancing effect on hormones. Lignans also exhibit strong antioxidant activities and have numerous biological properties. Flax lignans are being hailed as one of the emerging new active ingredients benefits to both men's and women's health. As more and more research is being completed, the scientific community continues to uncover new and exciting news about lignans.
Physiological Functions
SDG is the precursor of the major mammalian lignans, enterodiol (EL) and enterolactone (ED). In another words, EL and ED is metabolites of SDG. Studies showed SDG had estrogenic and antioxidant activities, also had anticarcinogenic, antiatherogenic and antidiabetic activities. reducing hypercholesterolemic atherosclerosis oxidative stress and lowering serum levels of cholesterol .
Flax lignans may offer incredible health benefits for prostate health, bone health, breast health, reducing symptoms of menopause, heart health, hair loss, acne and inflammation.
Applications
1. Pharmaceutical
stuff
2. Functional food and food additive
Company Introduction
HUNAN SUNFULL BIO-TECH Co., Ltd., certified with ISO9001, ISO22000, Kosher, HALAL & HACCP, and specialized in the R&D, production and marketing of high value green tea and botanical extracts for dietary supplement, beverages, cosmetics & pharmaceuticals. We're the global leading manufacturer of green tea EGCG, (-)-Epicatechin, L-theanine, Theaflavins & Tea Polysacchrides. Our key botanical extracts including Aronia extract, Broccoli extract (Sulforaphane), Ginseng extract, Luo han guo extract, Maca extract, Milk thistle extract, etc. And many APIs (Amygdalin, Magnolol, Polydatin, Resveratrol, Sanguinarine, Swertiamarin, etc. ) Our products have been enjoying great popularity in the world markets due to their superior quality and competitive prices. SUNFULL also has becoming the 1st choice of natural ingredientsto many global famous enterprises and their most important strategic partner in China.